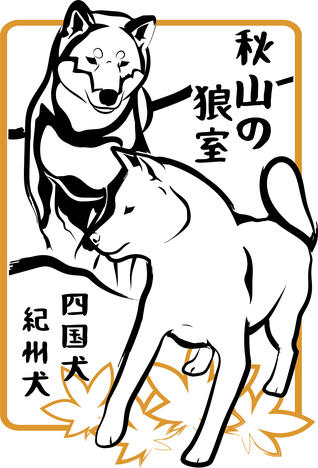 【秋山の狼室】
Akiyama no Roushya
NIPPO/AKC KISHU KEN & SHIKOKU KEN
---
About Akiyama no Roushya
Akiyama no Roushya is operated by C.J. McCammon with the help of family, co-owners, and close friends. CJ is involved in public health and disease surveillance professionally. They came to the breeds through their background as a canine behavior specialist, dog trainer, and animal care provider, with an education in behavioral psychology and conservation biology. C.J. joined the Nihon Ken community in 2009 in search of assistance for a client's Shikoku Ken and subsequently became interested in Kishu Ken in 2010. They spent years studying and learning about the breeds, their history, temperament, type, and health, finally obtaining their first Shikoku Ken in 2013 and first Kishu Ken in 2014, both rehomed adults.In 2014, Kishu-Ken.org was published to bring as much unbiased information to English as possible from native Japanese sources, from early publications, and from scholarly articles. In 2015 the kennel moved from Rhode Island to Oregon and has grown since. Shikoku Ken were added to the Akiyama no Roushya in 2020 after TK's (O'IKon's Takoda) earlier in that year. The URL changed from kishu-ken.org to akiyamano.co to reflect the change.C.J. served as voted-in president for the National Kishu Ken Club from its foundation until 2022 when they stepped down. From 2023 C.J. serves as board member and Pacific Northwest region representative for both the National Kishu Ken Club and American Shikoku Ken Club.
Akiyama no Roushya is an in-home kennel situated in the wet, temperate rainforest of the Willamette Valley in the very first city west of the Rocky Mountains to become incorporated. We are at home only 40 minutes from the lush, steep, volcanic mountain range of the Cascades. We all enjoy adventures in both urban centers and the wilderness the Mount Hood National Forest and Oregon Coast have to offer us.The terrain and flora here is quite similar to that of the Kii peninsula of Japan, and our dogs are well-suited for romps from town to the woods. We invite any prospective Kishu Ken or Shikoku Ken owners and those looking to learn about the breeds into our home, on an adventure downtown, or on a hike.
---
KISHU KEN AND SHIKOKU KEN
Which breed is right for me?
The Kishu Ken and Shikoku Ken have interwoven histories and very similar traits and qualities. Both dogs were developed as medium sized hounds from neighboring regions; Shikoku island is an island off the coast of the Kii peninsula. Both breeds are loyal and tenacious. Both breeds have a great off-switch that makes them easy to live with in the home. This list goes; the Kishu Ken and Shikoku Ken share many standard points as well.It wasn't until recent history that the breeds were divided from regional varieties of one landrace breed ("medium sized Nihonken" under NIPPO) and their historical interbreeding was disallowed. This tends to mean that although they are not entirely interchangeable, if you are a good home for one breed, you may be a good home for the other and the choice can come down to the smaller details.That said, there are modern trends within each population since their official splitting which make it more common to see some traits in one breed versus the other and these trends may spell out dealbreakers for a prospective individual puppy owner or family.
Essays could be written on the similarities between the breeds and so their differences become more important to illustrate. Keep in mind that because of they have shared a fundamental purpose and interwoven histories these differences may not apply to every individual in the two breeds! Plenty of overlap exists and can be very dependent on the line and parentage of the individual in question.One thing that requires mention for the similarities between the breeds is this: When looking at both the Shikoku Ken and the Kishu Ken, be prepared for training impulse control, particularly around prey animals and strange dogs!
THE PITCH
Generalizations and finer details...
One might describe the Kishu Ken as a lightning bolt: big and bold and racing to its destination from point A to point B as quickly as possible. The Shikoku Ken, then, reminds me of the oscillating devices during a Tesla demonstration: it performs the same general task, but in a more frenetic and chaotic way. Ultimately, both are electrical forces that are seeking the same thing.For those who do not visualize in that way:Are you an extrovert or always looking for a new big adventure? If you like dogs that will accompany you to the brewery, downtown, or a busy party and it's important that your dogs like friends and strangers alike, the Kishu Ken is your perfect match of the two. These social and exuberant dogs are enthusiastic hunters - whether that's on the trail for a good chase, good eats, or a new friend. Kishu Ken wear their heart on their sleeve and give their all in every endeavor. You'll never question how your Kishu Ken is feeling.Many Kishu Ken have a difficult time knowing when to quit their fun or activities and need help with their impulse control. They need to be taught how to quit while they're ahead. To successfully rear a Kishu Ken their partner and handler must advocate for their needs and intervene when it's time to eat a snickers or take a nap. A Kishu Ken over threshold can be difficult to spot because they do not shut down or stop taking reward and sometimes their stress escapes notice until they become a dragon or a shark.Maybe you're an introvert who prefers the company of good friends in a quiet space. The Shikoku Ken may enjoy your lifestyle. The Shikoku Ken is a sensitive soul who needs strong and kind socialization as a young dog and into adulthood to feel confident in many situations. Many dogs like the people they know and the comfort of familiarity. The Shikoku Ken wants to have fun in company they know the best. This does not mean they are demure or sedate: they are adrenaline and serotonin seekers waiting for their next rush, when they are their best selves.The Shikoku Ken tends to grow uncomfortable with the unknown and may withdraw within themselves when stressed. This may make it difficult to know when to step in and advocate for your Shikoku Ken or reward them when they need it most. This becomes challenging when raising a Shikoku Ken because if the person they trust most consistently fails to recognize their struggle, the Shikoku Ken may feel they need to advocate for themselves and become wary or aggressive with strangers.
---
SIDE BY SIDE STANDARDS
The following are English language standard-prototypes taken from the Nihon Ken Hozonkai and written in the language and format established by the American Kennel Club's standard writing documents. These standards are published on their respective breed parent club websites. The Nihon Ken Hozonkai standard is the basis for the standard brought to FCI through JKC, but lacks expanded material.It is up to the respective breed clubs (the National Kishu Ken Club & American Shikoku Ken Club) to establish their standards with the AKC.
【秋山の狼室】
Akiyama no Roushya
NIPPO/AKC KISHU KEN & SHIKOKU KEN
---
Akiyama no Roushya is a NIPPO and FCI registered kennel dedicated to producing quality Kishu Ken and Shikoku Ken bred to the NIPPO standard and helping their respective breed clubs to advance the recognition of these rare breeds within the American Kennel Club and in the USA in general. This kennel is a not-for-profit endeavor, meaning this is our passion and hobby - we do not see any overhead from our breeding.We have owned Shikoku Ken since February 2013 and Kishu Ken since May 2014 after researching and learning about both breeds since September 2009. Our goal is to identify and import dogs of competitive breed type under the NIPPO standard, sound parent temperaments which suit our mission, and strategically valuable pedigree additions with health data available whenever possible.As of 2023 we have removed in-depth profiles on our dogs to minimize our website footprint. Images and video content can be found on our social media. All of our health testing is always made available on the OFA database and the pedigree database without suppressing failing results. Pertinent links to health testing and pedigree data are made available here.
---
KISHU KEN
Our breeding and prospective breeding Kishu Ken. We have historically focused on diversity of the Kishu Ken and obtained or bred dogs of varying backgrounds to help sustain a US population of NIPPO-registered Kishu Ken. Akiyama no Roushya has wanted to bring the stable and easily motivated temperaments of the hunting line dogs in our foundation to the excellent breed type of the show line dogs more recently imported. As a secondary goal, due to the prevalence of yuushoku coats in our production, we attempt to breed vibrant and more standard-fitting yuushoku dogs. Akiyama no Roushya Kishu Ken used for breeding do not all reside in our home, but may reside in cooperative homes around the country.
We are a National Kishu Ken Club member working with breeders nationally and internationally including Akagawa Roushya and Ourou sou.
---
SHIKOKU KEN
The breeding and prospective breeding Shikoku Ken at Akiyama no Roushya. There are many Shikoku Ken breeders in the USA who report that they focus on diversity and so this was not necessary for us like it was with the Kishu Ken. Akiyama no Roushya's focus in Shikoku Ken is to select for temperament and type and have acquired dogs which fit our vision of what a Shikoku Ken should be or should be able to accomplish. Many of these Shikoku Ken have primarily Nidai Iwahori sou in their recent background and were selected from our friends' work with the breed, with family trees of proven and health tested dogs. Akiyama no Roushya Shikoku Ken used for breeding do not all reside in our home, but may reside in cooperative homes around the Pacific Northwest.
We are an American Shikoku Ken Club member working with breeders nationally and internationally.
---
RETIRED DOGS
*Dogs who have since retired from breeding. These are listed for posterity and history within our chosen breeds. *
---
MEMORIAL
In our hearts forever, and in our history. These are guardian dogs, co-own dogs, and personal dogs who have since left us - regardless of if they were used for breeding or not.
AVAILABLE KISHU KEN AND SHIKOKU KEN
Adult dogs who are available as rehomed pets, guardian, or co-own situations for show, performance, and companionship. Email for more information. Adult dogs placed as retired pets are PWYW and placed only on contract.
| Name | Breed | Sex | DOB | Color | Pedigree | Placement Type |
| --- | --- | --- | --- | --- | --- | --- |
| None available at this time. | | | | | | |
---
KISHU KEN AND SHIKOKU KEN PUPPIES
Litter plans subject to change. Akiyama no Roushya puppies are placed on contract and are $3000 prior to transportation arrangements. $500 of this must be submitted as a holding fee to get on our wait list after an approved interview. There is no official puppy application. All interviews are performed via conversation online, over the phone, and/or via local meetup. Our puppies are AKC and NIPPO registered by default and may be FCI registered via FCPR or UKC registered.If you are outside of the USA and require international export anticipate transportation and veterinary fees relating to the international health certificate to add approximately $1000-$1500 to the cost of the puppy if you wish us to book/fly your puppy. If you hire an international transporter who will handle this for you or travel here yourself, it will be the cost of the vet fees on our end only. Akiyama no Roushya puppies are socialized and trained in a meaningful way until the export date with no extra fee for boarding or care. The only additional cost owners are expected to pay is for transportation and the extra veterinary care pertaining to export.
| Breed | Expected | Sire | Dam | Colors | Pedigree |
| --- | --- | --- | --- | --- | --- |
| Shikoku Ken | Winter 2024 | Udon (JP) | Dori (US) | sesame | link |
1. strikethru = waitlisted homes only / no puppies available
---
IMPORTING PUPPIES
There is currently a HHS/CDC rule change being proposed to come into effect after July 31st, 2024. This rule change will make it impossible to import puppies from rabies free and low risk countries under the age of 6 months if no change is made to the propsal.If this passes, it will be devastating to the Kishu Ken population in the USA, where we do not have enough foundation stock to create a viable long term population. Raising the minimum import age from rabies free and low risk countries to 6 months will destroy our available options for import from Japan. It is remarkably difficult as-is to find breeders who are able and willing to do all the steps to export to the USA, raising that export age to 6 months will add further prohibitive barriers in both logistics and dog adjustment periods.So what can you do about it? You can:
Comment on the HHS/CDC proposed rule change. Tell HHS/CDC that you oppose this change in whatever language you choose. This rule change states it is being proposed to mitigate the spread of disease, targeting rabies. It that is the case, increasing the age of import from Japan and other rabies-free or low-risk areas simply illogical. You can read the proposed rule change and comment here.

IMPORT. If you have been waiting for the "perfect" time, now is that time. We have one year to import more foundation stock to the USA to get in before any rule change takes effect (confirmed via correspondence w/CDC.) After that, things will become more difficult. For this I will be targeting KISHU KEN - if you would like to co-own an import or import independently PLEASE reach out to me and I will do my best to help you.
---
Akiyama no Roushya is always looking for co-owners and guardian homes for import puppies who may be evaluated for breeding. If you are interested in conformation or breeding yourself and would like to use our breeder connections for Kishu Ken or Shikoku Ken, you may reach out to us privately. Keep in mind that nearly no Japanese breeders health test parent dogs before breeding and health cannot be as carefully predicted when dogs are coming from Japan.Imported puppies may cost up to $5000 depending on the breeder; co-own price will be split with Akiyama no Roushya. Akiyama no Roushya offers reimbursement or a puppy back when a co-owned dog has produced two (2) litters unless another agreement has been made. With all dogs who pass our evaluations, the co-owner or guardian is then committed to permit Akiyama no Roushya have access to the imported dog to produce no more than two (2) litters unless otherwise agreed upon or the first litter was to the dog's detriment.We in turn require all imports placed as guardian or co-own be left intact until breeding evaluations and health testing can be performed. If health testing or physical evaluation of the dog disqualifies them from our standards but the dog is otherwise within standard and healthy, we will sign the dog over to the home for private use (as a prospective breeding candidate.) If they do not pass their health testing or develop in a way that lacks merit, Akiyama no Roushya can sign the imported puppy/dog over as a pet without breeding rights.
Contact
For more information about our dogs and plans, to fill out a litter application, or to meet out dogs, please contact us below. Texts to the phone number or whatsapp will be returned faster than phone calls due to our work and dog training/activity schedule.
Located in:
Clackamas County,
Oregon, USA971-266-0108
akiyama@kishu-ken.org
You may also contact us and see more of our lifestyle and our dogs on our social links below:
Resources
VETTED LINKS AND RESOURCES FOR THE BREEDS
---